Top Self-Care Trends for 2022
Stepping into a new year often brings the desire to become the best version of yourself. People optimistically make New Year's resolutions and set personal goals that they hope to achieve, and 2022 is no different. Consumers have already begun filling their Amazon shopping carts with products to help them achieve this year's health, wellness, and fitness goals. 
Keep reading for the top self-care trends we're seeing in 2022 and how they are impacting sales on Amazon.
What is self-care?
Self-care became a rallying cry at the beginning of the pandemic, as millions of people around the planet were suddenly stuck at home and needed something productive to do with their newfound free time and privacy. So many did what anyone would do, given those circumstances: they went outside and touched grass, slathered mysterious new creams on their faces, and bought Pelotons. Oh, how they bought Pelotons. 
Boredom wasn't the only reason for new self-care routines. The surge of illness also prompted many people to pay closer attention to their physical health. Consumers flocked to the store (and Amazon) to purchase vitamins and supplements, leaving shelves (both physical and digital) empty. 
Although we are two years removed from the start of this pandemic, this trend toward self-improvement through all-natural supplements, experimental skincare, and at-home exercise has endured. And as its practitioners began to notice the benefits that these changes brought to their daily lives, they looked for other ways to optimize. 
The general self-care landscape (and resulting, booming industry) has since grown to encompass nutrition and cooking, talk therapy, meditation, sleep quality assessment, and athleisure, to name a few things. Practically any product or practice that made a person fitter, calmer, cleaner, or more comfortable continues to see interest in consumers concerned about self-care.
Why does the self-care industry matter for ecommerce businesses? 
As consumers reflect on 2021 and dream about what 2022 has in store, 68% say they are looking forward to self-improvement, and 55% say they are looking forward to treating themselves to make up for lost time due to the pandemic. This sentiment is reflected through Amazon sales data that shows increased revenue for self-care products in January 2022 compared to January 2021. 
With over half of consumers getting ready to focus on personal wellness in 2022, we can expect to see an increase in purchases like self-care subscription boxes, at-home dermatology devices, science-backed 'well care', and more! If you are an ecommerce brand or seller that offers products that consumers can use for self-care, you should prepare your inventory for growth, optimize your Amazon listings and get ready for sales.
Self-care product trends
We are only two weeks into 2022, and consumers are already flocking to The Everything Store to place their orders for their "new year, new me" products. We used Jungle Scout Cobalt to identify the top self-care products trends on Amazon.
Skincare products
Gone are the days when the only way to receive proper skincare was to drive to the dermatologist, sit in a waiting room, and pay thousands of dollars for services. You can now perform similar treatments right from the comfort of your couch with your favorite Netflix show playing in the background.
Light therapy devices
Consumers are catching onto the simplicity of at-home skincare services. The 73% increase in revenue for LED and red light therapy face masks and the 20% increase in unit sales for skin therapy wands reflect this increasing interest.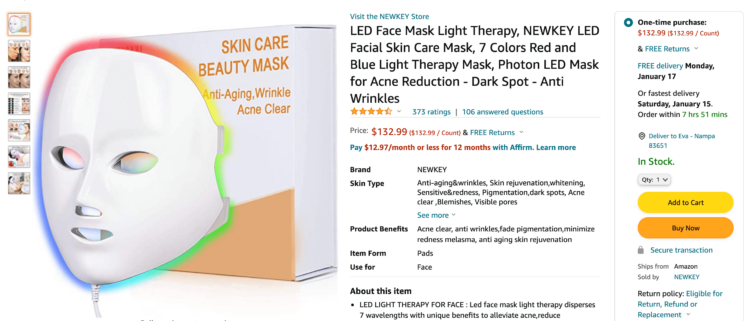 These devices may look silly, but consumers have embraced bringing skincare technology into their own homes. One reviewer said, "This (mask) is like driving a Ferrari compared to the Ford Pinto I used previously," about their old skincare routine. The revenue for the NEWKEY face maskhas been up 57% within the last month, and VOGUENOW's LED mask has seen a considerable revenue increase of 544%.
Clean skincare
The skincare category as a whole has increased in revenue by 22%, but clean skincare, a category comprised of toxin-free products, takes the lead with a 69% revenue increase. A category leader in clean skincare is Youth to the People: the brand has experienced a 200% revenue increase compared to last January.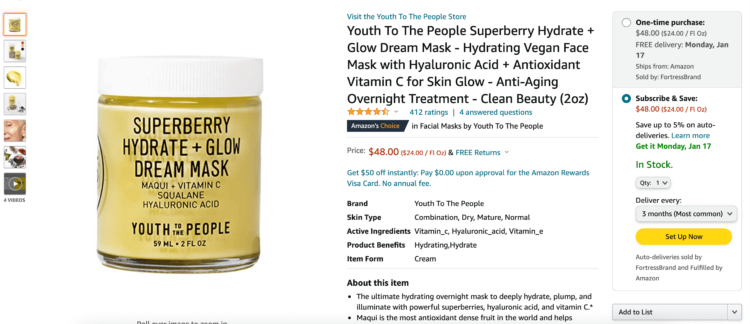 In the last month, Youth to the People's Hydrate + Glow Dream Mask has increased in revenue by 10%.
REN Clean Skincare, another category leader, boosted sales with their renewal body serum by 23%.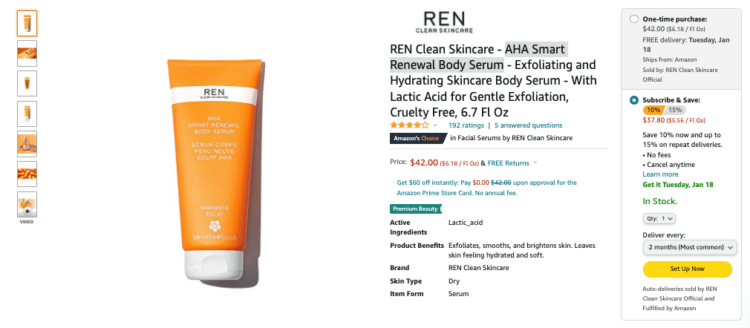 Lavido takes the lead on recent revenue increases with their natural facial serum (120% revenue increase).
Haircare products 
Having healthy, luscious locks is another 2022 self-care trend, with recent revenue increases from popular hair care products such as BIOLAGE's silicone-free shampoo (28% revenue increase), Carol's Daughter sulfate-free vegan shampoo (83% revenue increase), and Cantu's curl activator cream (55% revenue increase). 
Curl cream
Cantu wasn't the only brand to see a boost in revenue on the curl cream front. The category — which aims to bring moisture back to curly hair and tame frizz — has a 94% revenue increase compared to January 2021.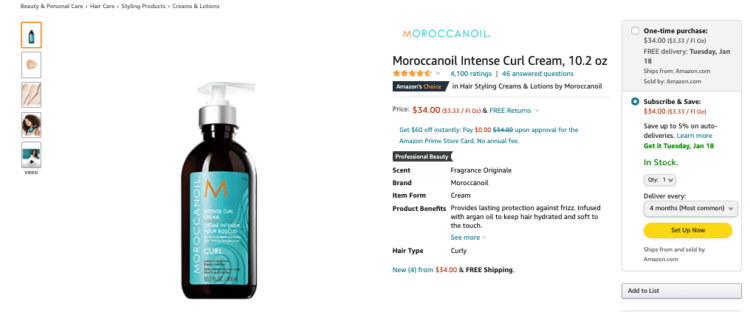 Moroccanoil, another category leader, saw an 8% revenue increase on their intense curl cream in the last month.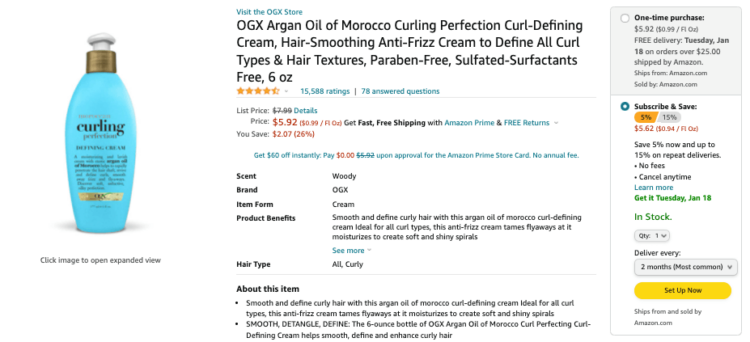 A haircare mainstay, OGX Argan curl cream, has also increased by 27%.
Hair growth supplements 
Topical hair products are not the only way to achieve your hair goals, especially for those who have seen beauty start from within. Nutritional supplements such as collagen are another excellent option for those who crave healthy-looking hair. 

Viviscal, a category leader in hair supplements, increased its revenue by 100% in the past month. 
Fitness products
To get fit in 2022, consumers are purchasing more workout-related products than they did at the beginning of 2021. 
Athleisure
No fitness routine would be complete without an outfit to get motivated. Consumers have committed to working out more and looking good while doing it. Just ask the massive revenue increase of 922% on products listed under the keyword "workout matching set."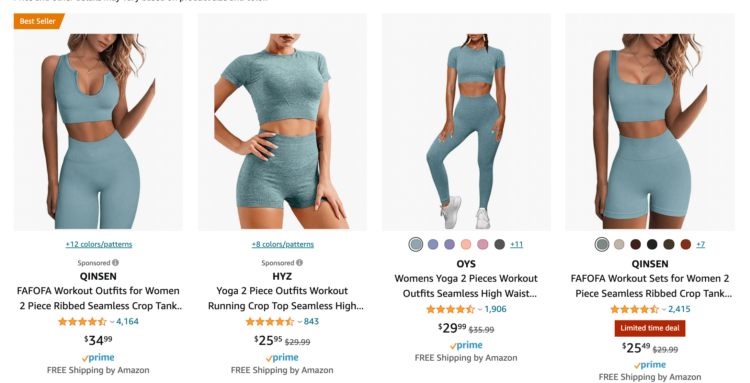 The details don't stop there. Workout apparel is growing in popularity this year, and by the looks of the Amazon search results page, the color green seems to be trending as well. 
Fitness equipment 
At-home workouts have been popular since the start of the pandemic when consumers had to find ways to stay active and learn how to build routines — and their home gyms. Although gyms have opened back up, many consumers still choose to purchase their fitness equipment on Amazon. The fitness equipment category revenue has increased by 14% compared to January 2021.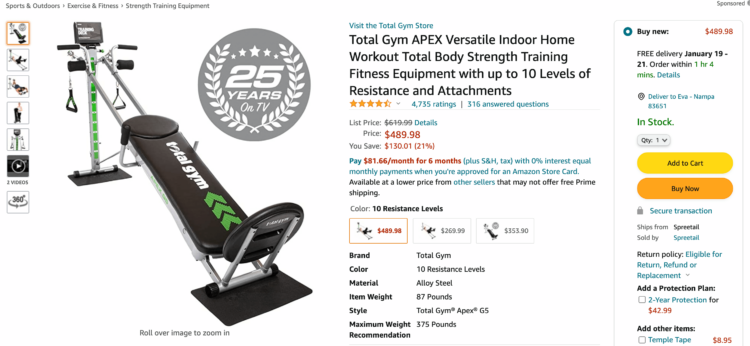 The revenue for this home workout machine has increased by 100% in the last month.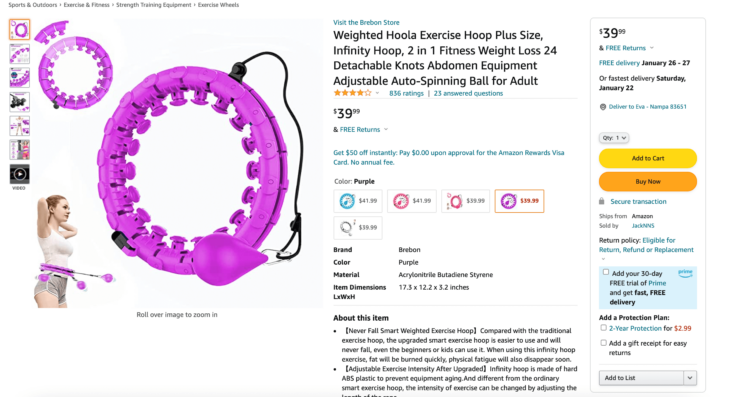 Here is a weighted exercise hoop for those who prefer a less traditional at-home workout routine or want to shake things up. Its revenue increased by 100% in the last month. 
Smartwatches 
If you doubt the effectiveness of the exercise hoop workout, you can always give it a try while wearing a smartwatch to track your calorie burn. Many consumers are doing the same, which is evident from the 61% increase in unit sales the smartwatch category has experienced compared to January 2021.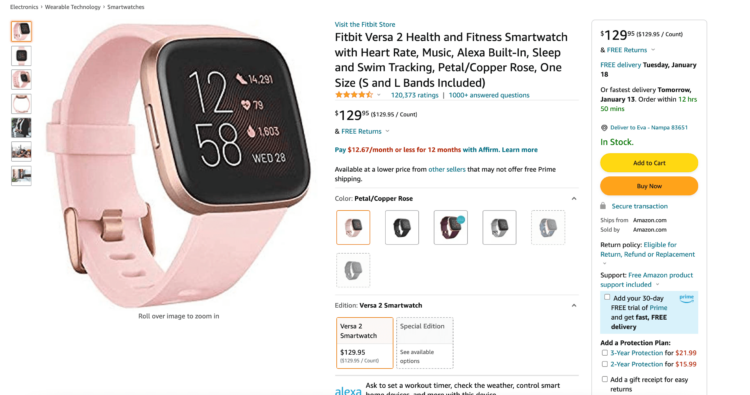 The category leaders for smartwatches include the Fitbit Versa 2, the Samsung Galaxy Watch 4, and the #1 Best Seller in the "Women's Smartwatches" category, the Fossil Women's Gen 5E. 
Fitness products generally see a boost in revenue around the new year due to consumers' resolutions and fresh motivation to reach fitness goals. But as we've seen, many exercise-related products have experienced a more significant boost in sales this January compared to last. 
Nutrition and supplement products
To boost their immune systems, decrease stress levels, and cover all bases, Amazon shoppers are adding supplements to their carts and their 2022 health routines. The supplements of choice range from all-natural remedies to emerging solutions. 
CBD gummies 
Throughout the last two years of this pandemic, no one has been a stranger to stress. That must be why CBD and hemp edibles have grown significantly in popularity, with unit sales up 202% compared to last January. CBD products are commonly used to relieve stress, reduce inflammation, and increase sleep quality. They are also used for their natural calming effects.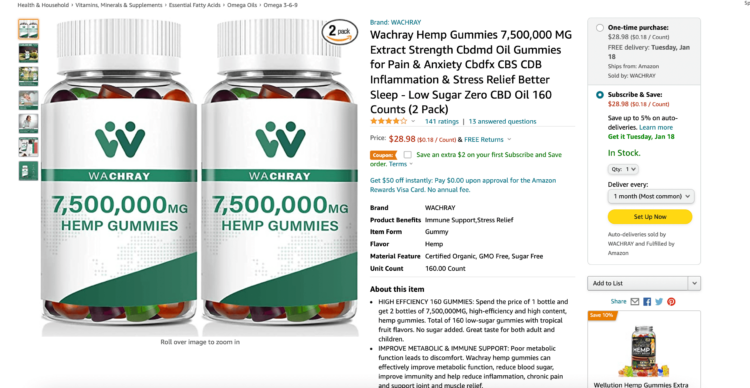 Red algae 
Another supplement growing in popularity is red algae, with unit sales up 78% compared to last January. Red algae may sound odd, but consumers interested in boosting their immune system have their finger on the pulse of wellness trends — and red algae, touted for its overall health benefits, is on the rise.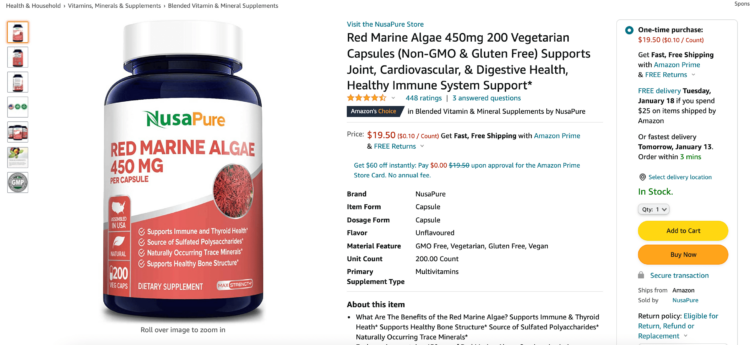 Revenue for NusaPure Red Marine Algae has increased by 54% in the last month. Other category leaders have seen an increase in revenue as well, such as Pharmakon's red algae with a 67% increase in revenue and Vibrant Health's Red Marine Algae with a 100% increase in revenue. 
Collagen products 
Taken by wellness enthusiasts for its benefits to joints, skin, hair, and bones, collagen products have found their place in the industry. Revenue for collagen supplements has also increased (39%) compared to January 2021, with category leaders seeing significant growth. For example, Ancestral Supplements offers a bone and marrow collagen supplement that has seen a 70% revenue increase, and both Garden of Life and Purely Inspired have earned doubled revenue for their collagen products.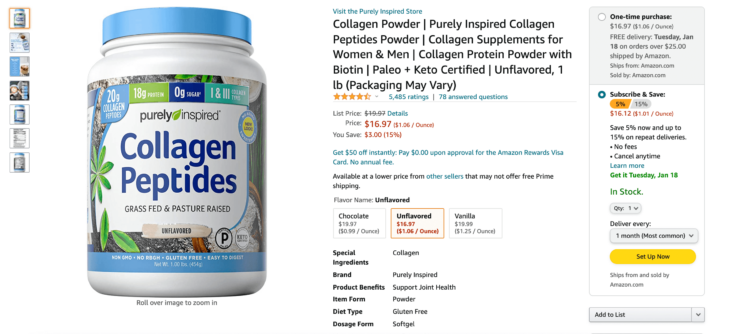 Wellness products 
The popularity of the usual health and fitness categories has brought consumer interest to wellness products that aim to promote mental health and a happier life. Products that fall within the wellness category have increased sales on Amazon compared to last year. 
Wellness journals 
Amazon products listed under the keyword "wellness journal" have increased in revenue by 193% as a whole. These journals have a variety of different wellness focuses. Segment leaders include this daily positivity journal (135% revenue increase in the past month), this daily/weekly health, wellness, and food log (100% revenue increase in the past month), and this guided self-care journal with prompts to encourage mindfulness, gratitude, and positivity (140% revenue increase in the past month). 

Luxury toilet seats 
Now for a less-obvious wellness product: this electronic bidet toilet seat that has increased in Amazon revenue by 100% (in the past month). The overall bidet category on Amazon has a revenue increase of 34% (compared to January 2021).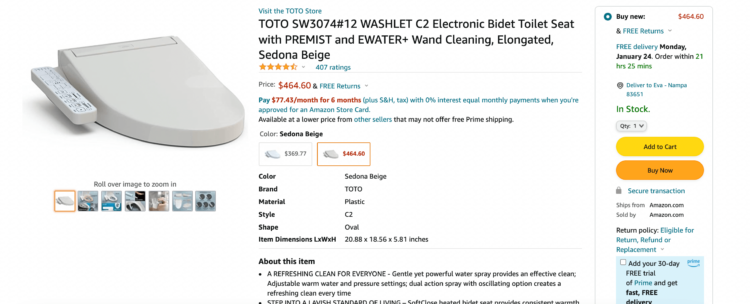 After reading pages and pages of 5-star bidet reviews, I can see how this can be considered a wellness product that could definitely increase happiness and life satisfaction (at least in the bathroom).


Singing bowls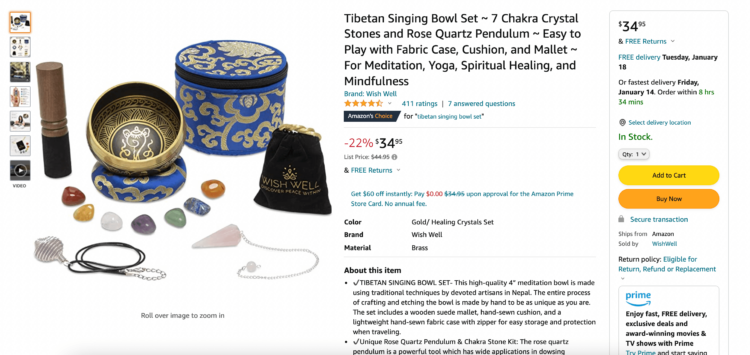 Singing bowls, also known as meditation bowls, are another wellness product that might not immediately come to mind when you're building up your self-care repertoire. But Amazon shoppers are getting more familiar with this product, made evident by the 41% revenue increase across the category.

Often used in sound healing practices, singing bowls are said to help balance chakras to allow energy to flow freely through your body — and, in turn, increase happiness and health (something everyone could use a little more of these days). 
Time for Amazon brands to cash in on the self-care trend
Consumers' devotion to self-care paired with this goal-setting time of the year creates the perfect opportunity for ecommerce brands to boost their sales. Whether you sell more traditional self-care products such as fitness equipment and supplements, or outside-the-box items like singing bowls and electronic toilet seats, you should optimize your listings and ads and get your products in front of all of those New Year's resolutioners.